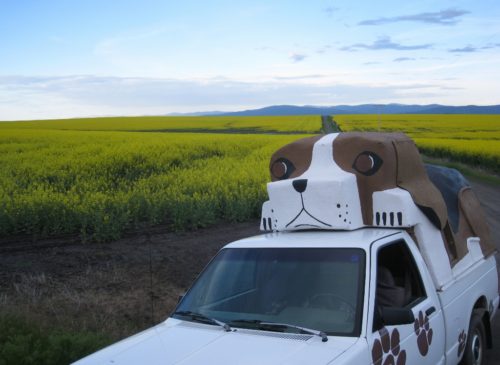 In this episode Roamer enjoys making stops near home to see the prairie in bloom up close.  These huge fields carpeted in the most brilliant yellow imaginable are canola flowers (rape seed).  That's right, the plant that produces seeds from which canola oil is extracted.  As canola is often a rotation crop for wheat these massive blankets of yellow rarely appear in the same location every year.  On a warm sunny day the air for miles around the fields is scented with a heavy perfume from the flowers.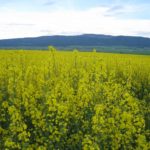 Often the plants reach close to 5-ft tall. After flowering they gradually dry up losing their height & fading to floppy weedy looking masses of amber. Harvest is typically in mid-August.
For a few miles along US Hwy 95 towards Grangeville, old wild apple trees erupt into bloom.  The trees are along the old railroad bed just out of reach of the tractors and combines that ply the grain & canola fields lining the track bed.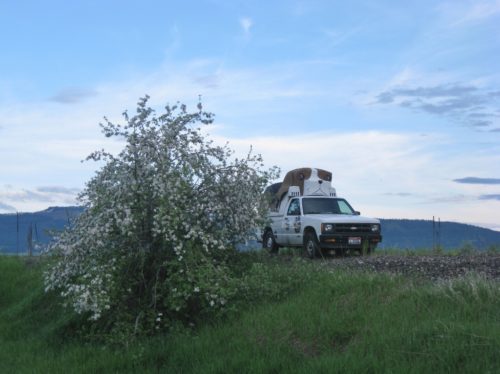 We think perhaps the trees sprouted from apple cores disposed of by passengers & train crew as they approached or left the train depot in Fenn.  Most years in late summer people harvest the apples which typically are quite small but especially good for making sauce.  One year we picked apples from one tree that had reddish flesh which cooked into surprisingly pretty pinkish purple applesauce! In winter the trees act like snow fences forming blowing snow into deep drifts on the leeward side providing plenty of spring moisture to nourish the untended trees.
While exploring along the railroad bed Sprocket found a pocket of wild Camas flowers.  Later wild onion and lupine bloom in the grass at track's edge as well.  Whizzing by on the main highway one has little opportunity to realize this pretty oasis of nature exists but a few feet away.