Dog Bark Park is located in north central Idaho on US Hwy 95 at Cottonwood, Idaho.
Latitude = 46.057531 Longitude = -116.344491
We're in the heart of the Camas Prairie where wheat, barley, canola, blue grass & hay are the dominant crops. Cottonwood, 944 population is the second largest community on the prairie. It has a compact downtown, regional medical center, Bureau of Land Management field office & nearby Monastery of St. Gertrude. Dog Bark Park is located approximately midway between Yellowstone & Glacier National Parks.

Getting Here by Air
Airport in the area include:
Lewiston, Idaho 1 hour (best serviced by Delta and United Airlines)
Boise, Idaho 4 1/2 hours
Spokane, Washington 4 hours
Missoula, Montana 4 hours
Drive Times
From the North
Lewiston, Idaho 1 hour
Moscow, Idaho 1 ½ hours
Spokane/Coeur d'Alene 4 hours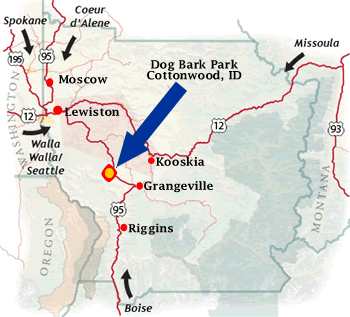 From the South
Grangeville, Idaho 15 minutes
Riggins, Idaho 1 hour
McCall, Idaho 2 hours
Boise, Idaho 4 ½ hours
Salt Lake City 11 hours
From the West
Walla Walla, WA 3 hours
Richland, WA 5 hours
Seattle/Portland 7-8 hours
From the East
Kooskia, Idaho 1 hour
Missoula, MT 4 hours
Bozeman, MT 8 hours
All driving times are approximate.   "The big dog is a truly unique experience and we are so glad we planned our trip so we could stay there." – Martha, Murfreesboro, TN
Travel Tips

Due to the varied terrain in the region, cell phone access is limited or non-existent in some parts of north central Idaho.

Marked rest stops are safe, clean and few along the way.

We're happy to suggest interesting places to stop along your travel route to Dog Bark Park. Travel well and enjoy the scenic rivers, mountains, canyons & open countryside.

The 'big dog' awaits your arrival!         Sleep somewhere with a story!