Once at Dog Bark Park you may want to explore around a bit. We're happy to customize an itinerary for your stay. For starters, here are a few suggestions:
Explore Lewis & Clark country – Cottonwood is not far from the Lewis and Clark Trail. In fact, on the return trip in 1806 three members of the expedition may have walked under the legs of Dog Bark Park Inn on their way to the Salmon & Snake Rivers for fish! See http://visitidaho.org for suggested sites to visit and much more in the area.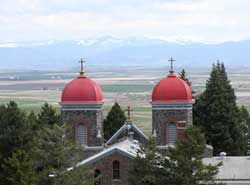 The Monastery of St. Gertrude & Historical Museum
3 mile scenic drive from Cottonwood. www.stgertrudes.org
Winchester Lake State Park at Winchester, Idaho, 26 miles north of Cottonwood. http://parksandrecreation.idaho.gov/parks/winchester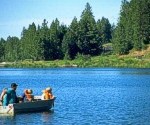 Hells Canyon Jet Boat Tours – Take a thrilling daylong ride the entire length of the canyon. Tours launch from nearby White Bird, Idaho. www.killgoreadventures.com.
Whitewater rafting & Fishing trips: lots of opportunities for folks of all ages. This company operates from nearby White Bird, Idaho & is among the best of the best operating on the Salmon River & Hells Canyon of the Snake River. HD River Excursions – Fishing Charters.  Other rafting and jet boat companies also offer trips on the Salmon and Snake Rivers from Riggins or White Bird, Idaho.
Drive-In Movie – take in an outdoor picture show at Grangeville's Sunset Auto View, one of the few drive-in theatres still in operation. Phone 208 983-5509. Open late Spring through early Fall weekends only.  http://www.bluefoxtheatre.com/
Other Popular Activities
Other resources for regional sights/activities:
North Central Idaho Travel Association – covers travel information for north central Idaho which spans from the Montana border to the communities of Grangeville, Cottonwood, Riggins, Lewiston, Moscow, Kooskia, Kamiah and other smaller towns:
http://visitnorthcentralidaho.com
Dog Bark Park has complimentary area travel literature & maps. Be sure to browse these resources in our office/gallery/gift shop.
Perfect…oops " purrfect"… oops "woofect"

– Meg M, Grangeville, Id