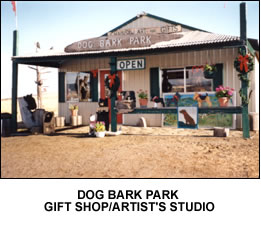 Dog Bark Park is home to Toby and Sweet Willy, the World's Two Biggest Beagles. Toby, a 12-foot tall beagle statue, was built by Dog Bark Park artists Dennis Sullivan and Frances Conklin.
Sweet Willy, officially known as Dog Bark Park Inn, is one of America's latest additions to the type of roadside architecture popular in the early days of automobile vacation travel when travelers would often buy gas, eat meals or stay overnight in a building that looked like something else. Remember coffee pot or teacup gas stations, milk bottle shaped restaurants or the shoe and duck houses? For today's travelers Dog Bark Park Inn offers a glimpse into those bygone days with all the comforts of our modern days.
Come Experience the Dog!
Hours of operation: *Open year round. Monday – Sunday 11am-4pm.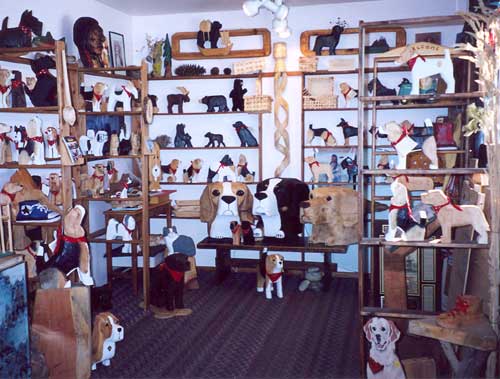 With the two big dogs signaling your arrival to Dog Bark Park, visitors may walk the grounds, browse the gift shop and artists' studio featuring the whimsical chainsaw artwork of husband/wife artists Dennis and Frances. Canine carvings are a specialty although visitors are apt to find fish, feline, bear, moose and Lewis & Clark themed carvings as well.
At Dog Bark Park we enjoy sharing dog, travel and life stories as well as assisting visitors in planning their vacations.
*Since we are truly a mom & pop operation (yes, there's just the two of us!) sometimes business takes us away from the studio. Therefore, please contact us in advance to be sure we'll not miss your visit. Educational and groups tours are encouraged. Please contact us to schedule a group visit.
For more about Dog Bark Park, order our souvenir book, Sweet Willy – a Noble & Absurd Undertaking.
"I knew we'd love dog Bark Park but hadn't even considered there would be thick, fluffy towels, homemade granola & one of the most restful views ever."

-Barbara R. Hayward, California