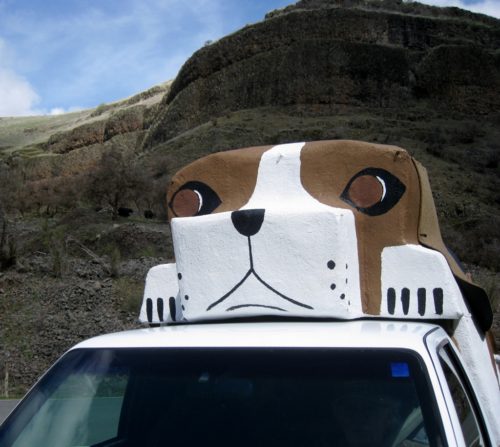 Basalt rock comprises the foundation for much of Idaho, eastern Washington & eastern Oregon.  This bedrock is volcanic, or igneous, rock resulting from the cooling of basaltic lava exposed at or near ground surface.  From approximately 17 to 7 million years ago a series of massive lava flows oozed over wide stretches of these lands.  In some places the flows were a thousand or more feet thick.  Evidence of such deep deposits can be seen while descending Graves Creek as it makes its way to the Salmon River.  Along the way massive basalt columns and cliffs are stunningly exposed. For more about Idaho's geology a good source is Roadside Geology of Idaho by David D Alt & Donald W Hyndman.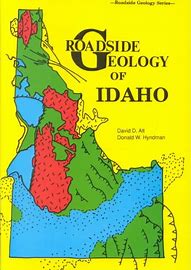 The rounded weathered column above Roamer's head changes appearance with the play of the light.  Always impressive and worth a stop to take in the changing view.
Roamer also suggests stopping where the cliffs are really close to the road to notice the echoing and amplified sounds of the creek, birds and breezes.  So refreshing!
Stopping for a distant view of more basalt cliff outcroppings Roamer also noticed a big pile of rocks (basalt ones of course!) at the corner of this fence.  Around these parts of the country such structures are called a "fence crib" or "rock buck".  They are placed at fence corners to help hold the fence together against the forces of livestock and weather.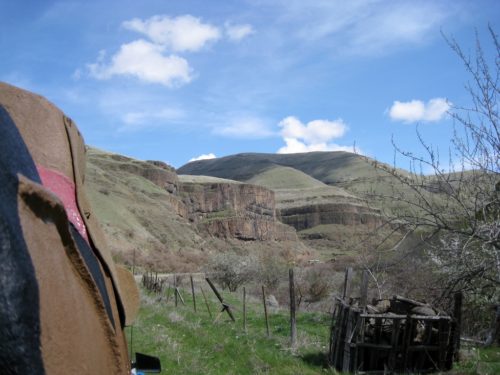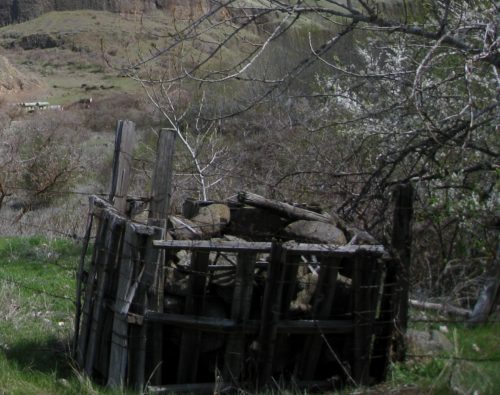 When Graves Creek runs into the Salmon River Roamer enters the Pine Bar Recreation Area which is managed by the Bureau of Land Management.  Over a few miles the road slowly descends to river level and terminates at Pine Bar beach.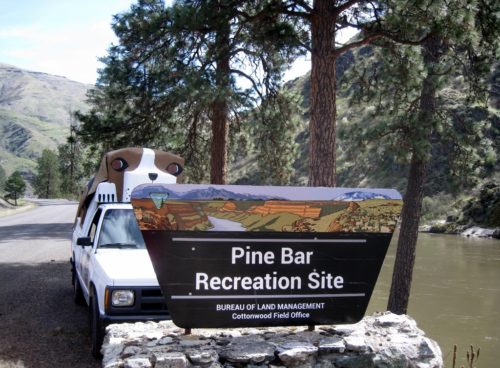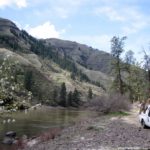 Along the river there are several access points for fishing or for frolicking on cobbled basalt and sand beaches.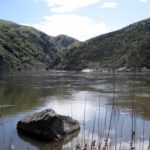 The road ends at the main Pine Bar picnic and beach area.  This is where Roamer, with beach towel, duck and sunglasses enjoyed time listening to the sounds of silence along the river.  After Roamer fell asleep in the sun Sprocket borrowed the towel & duck for his own fun as he waited for picnic food to appear.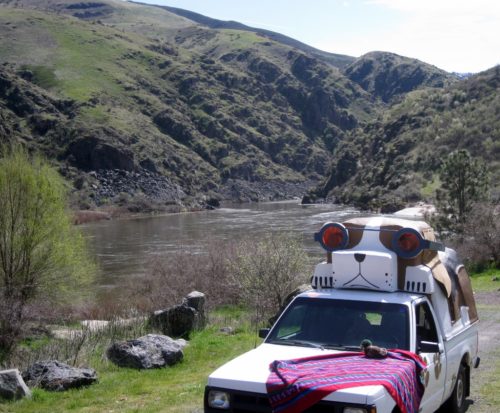 For not being far from civilization, spending time at Pine Bar especially when no one else is around feels nicely like being far away from everything but one's own thoughts and observations.  Serenity on the Salmon!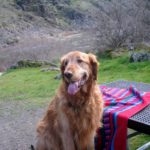 When preparing to visit here it's a good idea to bring water as the only available water is at the picnic camping area at the very end of the road.  If temperatures are cool up on the prairie it will be warmer on the river, however temperatures can change quickly as cloud cover or breezes change.  During the heat of summer a great time to be in the canyon is in the evening or early morning.  Catch the magic and enjoy time at this remote yet accessible place.