Roamer, Dog Bark Park's travelling pup, ran but a few hundred feet from home base to get his picture taken with the travelling Big Idaho Potato. For 7 years the beloved potato has been travelling the country promoting Idaho potatoes at planned and impromptu stops from coast to coast.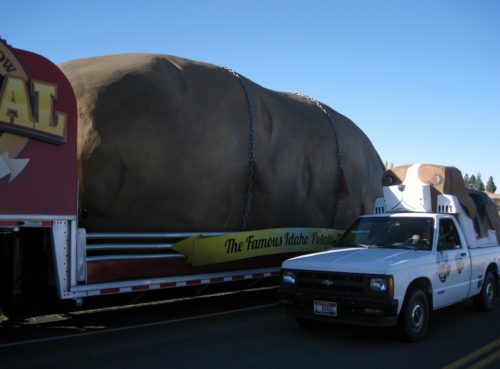 We met Ron, the Tater Driver, and the Tater Twins Kaylee & Jessica who shepherd the 4-ton potato on its 72-ft long trailer.  While parked on the side of the road cars coming or leaving town slowed down or even stopped to take photos.  One lady from Helena, Montana remarked her day's drive was made complete upon seeing the big Tater. The Idaho County Sheriff made a stop to see if everything was OK. Seeing our thumbs up he smilingly nodded as if to say of course, "only in Idaho" would a big potato draw such attention & drove off!
Upcoming events for the Big Idaho Potato include a stop tomorrow in Coeur d'Alene, Idaho. Then on Oct 18th it will be in Pocatello at the Pocatello Community Charter School from 12:30-2:30 PM.  Next it will make an appearance at the Idaho Falls Ag Fest.  Then on to San Diego, California for the San Diego Fleet Week celebration October 26-28.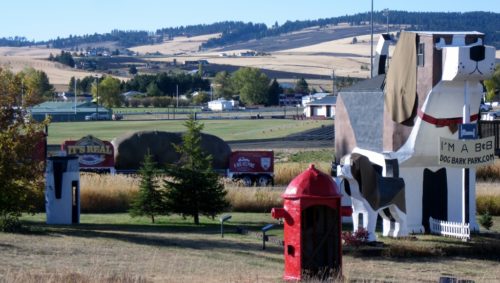 On next to Los Angeles where it hopes to meet some Hollywood celebrities for a few days beginning October 29th.
By November 7th the big potato will be at Orange Beach Alabama attending the World Food Championships where some of the international competition will include dishes made with Idaho potatoes.