Loving Labrador retrievers, loving to read & loving puppies can be easy for many.
This week's special combines all three in a Literary Labs collector plate. $15 + $5 postage*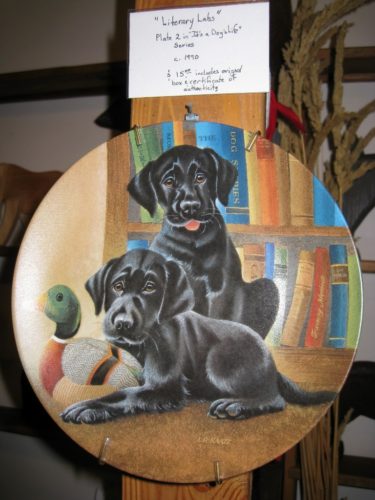 We have only one (1) plate. First order received will be the only one to receive this special dog plate.
Literary Labs is plate 2 in circa 1990 It's a Dog's Life collector plate series.  At about 8 inches in diameter the plate comes in its original box with certificate of authenticity and a brass hanger.
This might be a perfect last minute gift idea for someone who loves libraries, puppies and black labs.
To order: email us at frances@dogbarkpark.com or call us at 208 962-3647.
*Available for shipping to continental US address only. Delivery will be via US Priority Mail to arrive in time for Christmas.
Offer expires when 1st order received or at midnight December 18, 2017.