This week our special is four items for one price of $30:  1 Roadside America jigsaw puzzle, 1 Sweet Willy: The Story of Dog Bark Park book, and 2 large souvenir Dog Bark Park postcards.  Total value is $45.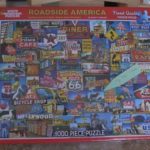 Roadside America Puzzle. This 1000 piece USA made puzzle from Vermont's White Mountain Puzzle Company features iconic roadside architectural attractions across America including Rte. 66, Mt. Rushmore, Lucy the Elephant, and Idaho's big beagle!  Finished size is 24 by 30 inches.  (Regularly priced on our website at $26).
This puzzle is fun to put together with friends or family to share stories about places visited. Our family has a tradition of doing puzzles at Christmas-time and again at New Year's. This was our favorite last year.
Sweet Willy: A Noble & Absurd Undertaking is a 64-page volume that tells the ideas behind & history of Dog Bark Park. It is a story of a one-of-a-kind business established with no guidelines other than two people following their hearts to carve out a livelihood and life together.
I enjoyed writing this book last winter & am happy to finally have in writing what so  many people have asked for – a concise sharing of how Dog Bark Park came to be. We include color photos on nearly every page.  I also share our most-requested breakfast muffin recipe and finish the book with a few pages of our random thoughts about life and business. (This book is regularly priced on our website at $17)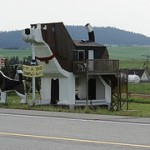 2 Large Dog Bark Park Souvenir postcards
Postcards are 5 x 7 inches in size and feature a photo of the giant beagle with the lush colors of our summer sunsets framing the big dog. (Postcards not available online. Retail price in our gift shop is $2)
Details and How to Order
Priced separately, the 3 items total $45. With this special, total cost is $30 after $15 rebate.
To order: visit the Souvenirs page of our web store & order the Roadside America Puzzle and the Sweet Willy book. (can also click on the links for each item at the beginning of this blog).  Once we receive & confirm your order we will issue a $15 refund/rebate. Not necessary or possible to order the postcards online; we will know to add them to your order.
Or, you may order by calling us at 208 962-3647 or by emailing at frances@dogbarkpark.com
Offer expires: Monday Dec 11, 2017 at 12 midnight Pacific time.
Offer valid only for orders shipped to US addresses.
Orders will be shipped in time for delivery before December 23, 2017.